Welcome to
FuseSign

- your one-stop platform for digital signing.

We are here to support you and your team as you embark on expanding digital signing across your business. Throughout our onboarding page, you will find all the support & tools to help ensure the transition to FuseSign is super seamless for you & your clients.
---
FuseSign Overview
---
Setting Yourself up for Success
To ensure that the transition to FuseSign is as seamless as possible, it is important that all parties are onboarded correctly. Within our onboarding page, we will run you through how to set up your Business, Team and Clients for success in just four simple steps:
Step 1 | Get your
Business
Set Up
The first step is getting familiar with your Administration Settings within the FuseSign platform. Administration Settings allows access to control business preferences, defaults, logos & templates.
We have a great starting point in our Knowledge Base, where you can access information regarding Firm Wide Settings.
Step 2 | Let your
Clients
Know!
Hosted on our FuseSign website, we have created our Client Resources hub that showcases different assets and collateral to help transition your clients with using FuseSign. As you can see below, we have a video, letter and social tile to help communicate the onboarding of our Digital Signing platform. These assets can easily be shared on socials & in your newsletter with your launch.
Step 3 | Get your
Team
Set Up
User Training
First things first, we have put together a help article that runs you through step-by-step "Learn How to Send a Bundle". This is a great learning resource to introduce to your team when rolling out FuseSign within your business.
In your FuseSign Platform there is a "Get Help" button at the bottom left that offers direct links to our knowledge base/help articles, links to our latest Release Notes and a direct link to our Support Desk that makes logging a support ticket really simple and gives our support team direct link to the current FuseSign bundle that you are in.
Knowledge Base
Our FuseSign Knowledge Base is a great resource that answers any FAQs you may have along with a hub that highlights: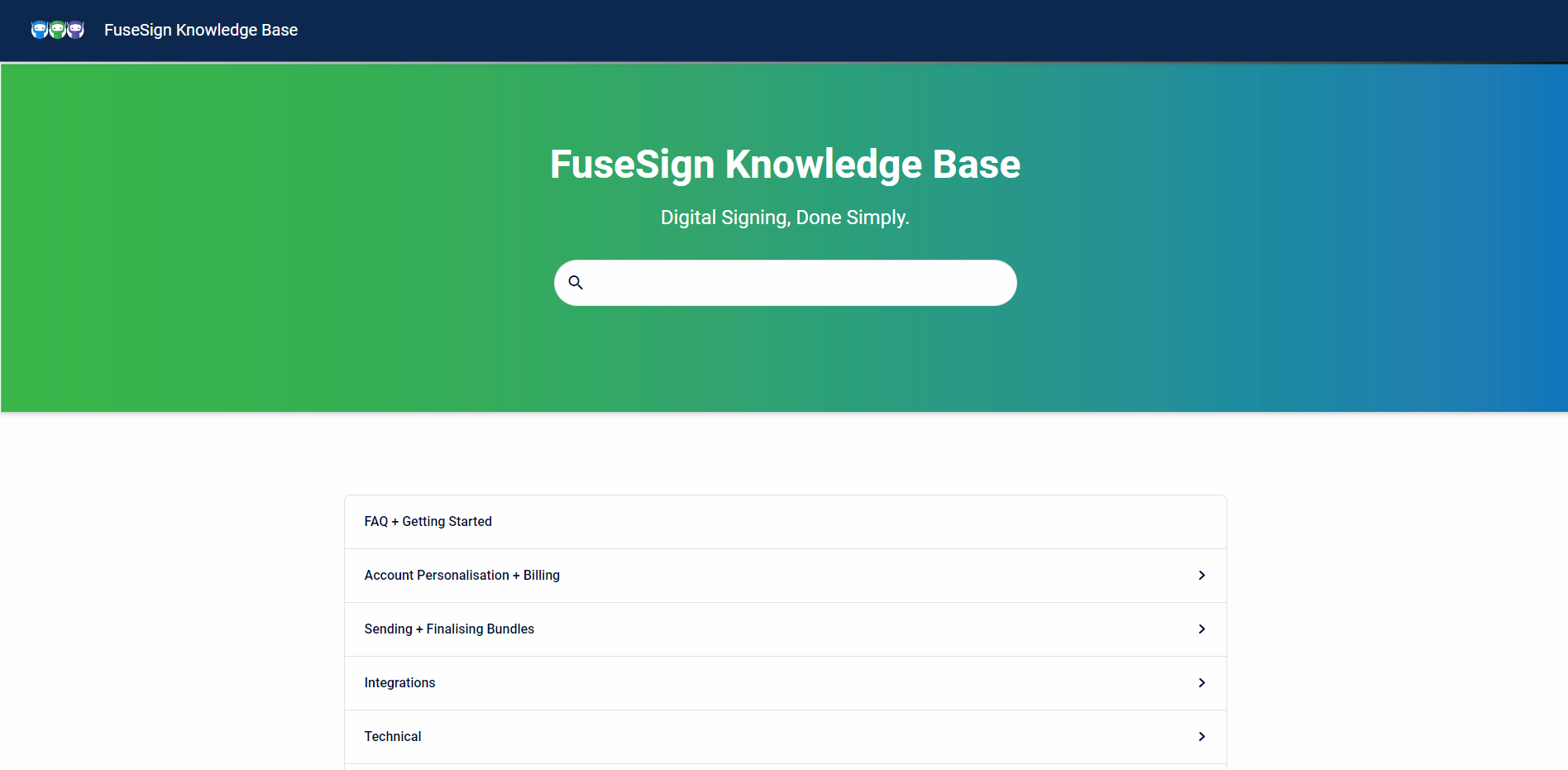 FuseSign Support
As always, if you encounter any issues logging a support ticket from within FuseSign directly, please email through your request to support@fuse.work or call (07) 3233 6400.
Step 4 |
Stay in the Loop
Our FuseSign platform has regular product feature updates & a growing list of integrations to help enhance your digital signing experience for both your team and clients.
To stay in the loop:
Keep an eye out on our Quarterly Product Updates email to subscribe to webinar

Find out our Current Integrations
If you have a great idea, or keen to see a new feature in FuseSign, please reach out to us as we love a collaborative client base!